Today I am joining in on a unique new blog hop I found called "Meet Me on Monday". This blog hop encourages us all to get to know a little something about each other. Fantastic idea! Check it out by clicking the icon below!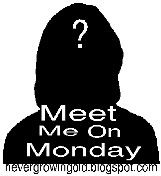 Questions:
1. What is your favorite sandwich?
2. What is stashed under your bed/mattress?
3. What is your favorite flower?
4. What is your favorite magazine?
5. How often do you weigh yourself?
My Answers
:
1. My favorite sandwich, right now, is Max & Erma's Chicken Salad Croissant. Man is it good! Normally I like my sandwiches cold & this one is served @ room temperature. However, that doesn't matter a bit to me with this sandwich. My mouth is watering just typing about it. Seriously! They must put crack in it or something!
2. Well this is an easy one. Absolutely nothing! Well, I take that back. Probably a few (or a few thousand?) dust bunnies. And hair bands. Like A LOT of hair bands. I take out my pony tail after I have climbed into bed & usually tuck it under my pillow. Then somehow or another it ends up under the bed. When I run out? I go "shopping" under the bed for more! (And dust them off of course!)
3. I've always loved tulips. Especially the yellow ones! Oooh! And the pink ones too!
4. Favorite magazine would have to be a smutty one, like People. But I hardly ever really read the articles, just skim them. I just like to look @ the celebrity photos!
5. I probably weigh myself a couple times a week. Just to keep myself in check.
Well there you have it. Five new facts about me! Leave me a comment if you are visiting from "Meet Me on Monday" (and even if your not!) & I will be sure to come by & "meet" you too, if I haven't already!
Thanks to Java @ Never Growing Old for this unique & fun blog hop!