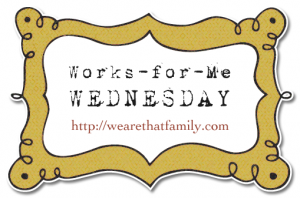 This is my first time participating in
WFMW
. It is a great way to get lots of suggestions on random things others have tried that,well, work for them!
Here's mine. It is relatively simple.
See this picture here?
Do you see what I see?
That darned strap kept falling down. And the dress she wore the other day?
Had the nerve to do the same thing! This annoys me to no end when it happens to me so
I am sure it must bug her too. And even if it doesn't, it bothers me just to see it!
Soooo
.... the other day I was at Target & saw a spool of 5 or 6 different
ribbons in the dollar section & snatched them up. My original plan was
to use them in her hair. You know, for pony tails & such. Well when she
ran out to the pool the other night a little light bulb went off. I quickly
grabbed a ribbon and.....
Wait for it.....
Viola!
A cute
AND
simple solution!
It Works For Me!